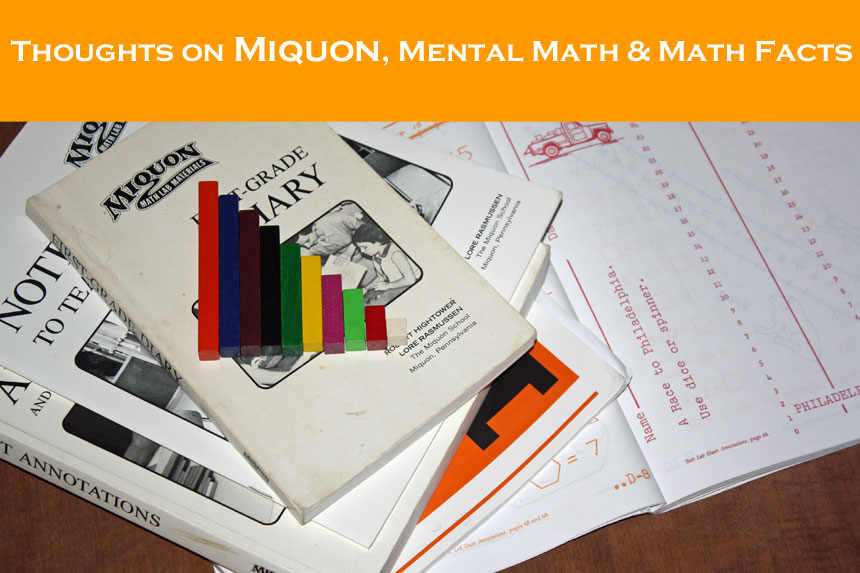 For the elementary years in our homeschool we use an math program called Miquon which is a Montessori based curriculum.  We like Miquon because it builds a good foundation of mathematical concepts, strengthens skills of pattern recognition, and encourages thinking about problems in many ways.  It doesn't teach just the traditional arithmetic algorithm's – it encourages children to find their own algorithms.  (If you aren't sure what that means hang around – it's a topic we want to write about in the future.)
Miquon is a thinking curriculum and it is an easy path to logic, algebra, and even geometric proofs.  I have found that for us, however, one of its weaknesses is in cementing math facts to memory and encouraging quick mental math.  At first I liked this about Miquon – there wasn't page after page of monotonous problems – there was always something new to do.  Our oldest son mentally was able to go directly from Miquon into Algebra at a surprisingly young age (meaning he understood the concepts), but the speed and ease at which he worked was slowed because he did not have instant recall of his multiplication tables or did not do calculations in his head very quickly.  These simple calculation skills held him back.  I think I assumed that if he understood the concepts the memorization and mental nimbleness would come without kill and drill.  This mistake I made when we first started homeschooling created an unexpected obstacle for him.
With this first son we spent a year working on those memory skills while he continued his love of problem solving using Mathematics A Human Endeavor by Harold Jacobs.  After that year he proceeded to Algebra without problems.  I had a few years to come up with a new plan  before our second son was at the same point.  (As it turned out this son is more language and arts oriented  and has traveled a slightly different math path.)
Currently I have the middle three at various points of the Miquon curriculum. To increase their mental math speed and ensure that their math facts can be instantly recalled we are playing a lot more math games than I did with the first two boys.  Right now we are in the middle of a series of games that can be played with just a deck of cards.  My main resource for these games has been Crewton Ramone's House of Math.  We hope to share some videos with you about these games soon.
So, even though this year we will be focusing much more on memory work than I have in the past, I will continue to stick to my guns that mere memorization without a concrete understanding of the concepts is a weakness rather than a strength – and I hope to use flashcards as little as possible.  Here is one of my favorite Charlotte Mason quotes about mathematics:
The child may learn the multiplication-table and do a subtraction sum without any insight into the rationale of either. He may even become a good arithmetician, applying rules aptly, without seeing the reason of them; but arithmetic becomes an elementary mathematical training only in so far as the reason why of every process is clear to the child.

from Home Education, Vol. 1, Section 15 Arithmetic
At Big Green Chair we acknowledge that homeschooling has some shortcomings.  We make mistakes but we try to learn and grow from them.  We do not want to paint too rosy a picture of the homeschool culture – our goal is to be as honest about what doesn't work as we are about what does because homeschoolers have real struggles and real failures.
If you would like to be a part of an honest conversation in a safe place and feel you have an experience to share that could be an encouragement or a lesson to others in our community

please send an email to social@biggreenchair.com