This is the first post in a series title Starting a Homeschool Library.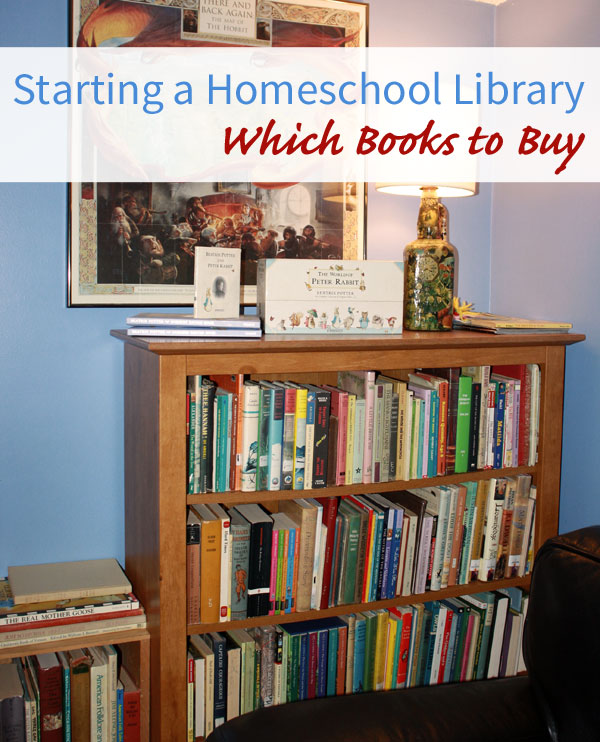 My vision of the perfect homeschool library always seems to hover just ahead of me.  Either there is not enough money for shelves, or not enough walls for shelves, but one problem I don't have is not enough books for shelves!
Being book lovers, once David and I made the decision to homeschool it seemed very natural to follow the philosophy of Charlotte Mason and educate almost solely from living books.  The first year of our school I attended a talk by Jan Bloom from which I left not only with an armful of books, but with the idea that a homeschool library could be a resource not only to educate our own children, but also a future generation.  A good homeschool library can be an inheritance.
I began to pursue out of print books with a passion and those first couple of years would sometimes bring home boxes of books at a time.  In this first post of the series, Starting a Homeschool Library I want to share with you the resources I used to help decide which books to buy for our shelves.
Which Books to Buy?
Jan Bloom of Books Bloom
Jan's book Who Should We Then Read? was my trusted sidekick for many a book sale and used book store visit.  If you have the chance to meet Jan and her husband and attend one of their workshops or seminars be sure to take it.  I especially found her "Books for Boys" talk very helpful.  Jan also has some great advice on creative shelving and of course there are the books – some of the best quality used books on the homeschool market!
One More Page (Paul and Lynn Smith)
Paul and Lynn Smith live in Laurens, SC.  I'm not sure if they still travel the homeschool circuit, but you can browse their online inventory here.  I bought several books from them every year for awhile at the HINTS Bookfair.  Paul always had at least two recommendations for every book I picked up.
Valerie's Living Books
Valierie and the online community she gathered at the The Bookroom shaped the character of our homeschool library more than any other single resource.  Her "List of Lists", book reviews, resources for book collectors, and approach to library organization have all born fruit on our shelves.  I'm not sure how well known it is, but Valerie is the daughter of Elizabeth and Jim Elliot.  You can read a short interview with her here.
Ambleside Online
The Ambleside Online curriculum booklists also carry their own weight on our shelves.  I have only found a hand few of titles in all of their lists that have not been to my liking.
Five In A Row
The picture books featured in this well known elementary curriculum are also a great place to begin a homeschool library.  We have added many of these titles over the years.
There are other book lists that I have used, as well, that may be featured in a future post.  Would you take a moment to leave a comment and share your favorite resources for learning about great books ?