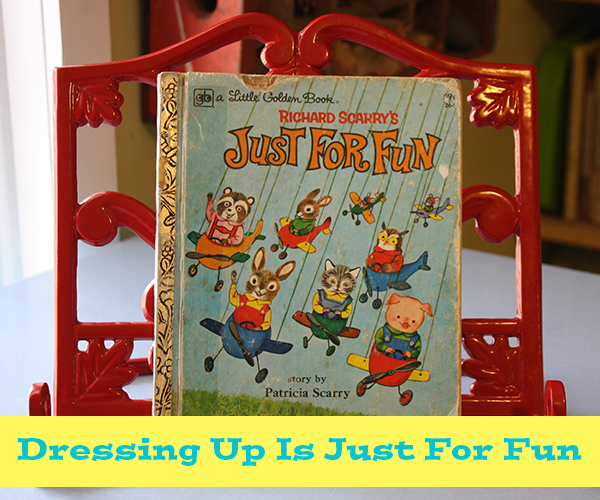 This spring the world was taken captivate by the colorful paper dresses of a four year old girl named Mayhem. In a short period of time her following on Instagram grew from a few hundred to almost four hundred thousand.  Many things converged to create this phenomenon, but one of them is just the innocent joy that children experience while dressing up – imagining and pretending to be something they are not.
"A costume is a new skin.  You become that person, animal, or thing while you wear it.  It allows you to feel what it is like to be an American Indian stalking deer or buffalo, a knight on a dragon hunt, a princess on her way to a ball, or Robin Hood leading his men from Sherwood Forest.  A costume turns you into a magician who can create illusions of other times and places.  It's also a present to people's eyes and imagination."   Gail Haley, Costumes for Plays and Playing
After decades of consumer costumes based on movie and cartoon characters and comic heroes it was refreshing to see some good old fashioned fun using simple materials already on hand.  In Mayem's case it was chiefly tissue paper.  On my Instagram feed I read many comments from mothers and children who were inspired by her creativity to create on their own costumes.  I also read some comments from parents who weren't sure how to begin.
If you followed or browsed through some related Instagram hashtags, especially #InspiredByMayhem you will see that this idea of dress up using paper is not a new one.  There are pictures of many Instagram users from decades ago wearing paper costumes.  Maybe you, like me, have memories of paper bag hats  or a newspaper hat and sword? I remember running through my Nannie's kitchen with a paper bag hat while riding a hobby horse my mom sewed onto an old mop handle.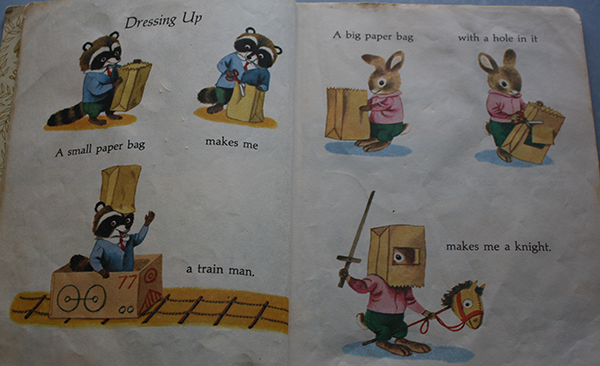 Were you or any of your children inspired by Richard Scarry's books in your play?  One book that remember particularly well is Just For Fun.  It has a small vignette titled 'Dressing Up' which depicts several very simple, imaginative ways to play with a paper bag and cardboard box.
This simple kind of pretending has always been a part of childhood.  Fashion by Mayhem took these simple ideas of costume play and combined them with modeling, photography, and social media to emulate something else entirely – a pretending that was not possible years ago when audiences were limited to the household.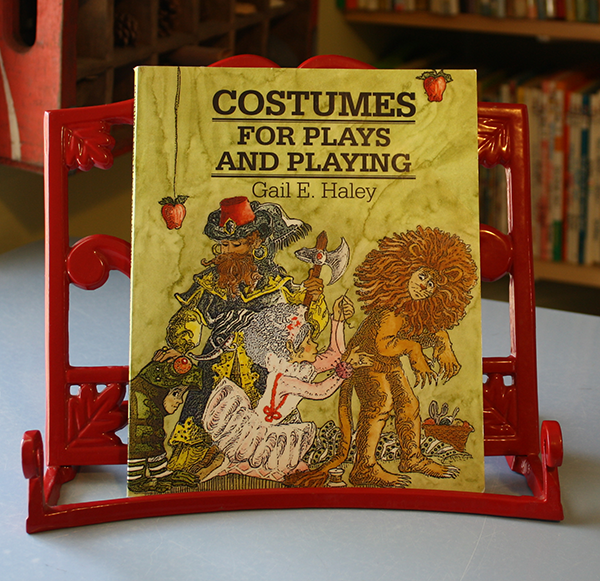 No matter your interest or intent I thought we would share with you a resource to help with your paper costume play that we have loved for years.  It is Costumes for Play and Playing by local NC author, Gail E. Haley.
Here are a few of the things covered in Costumes for Play and Playing:
How to find reference material for costume design and inspiration
Creating and organizing a costume treasure box
How to adapt old clothes, discarded fabrics and other materials
Very simple sewing skills
Masks, face painting, and tails
Simple draping and folding skills (these would be helpful if you wanted to work with tracing paper)
A whole section of the book is devoted to paper costumes and paper bag puppets
Make-up for transforming your face
Wigs
Fabric dying
Below are some teasers for what you will find in this book: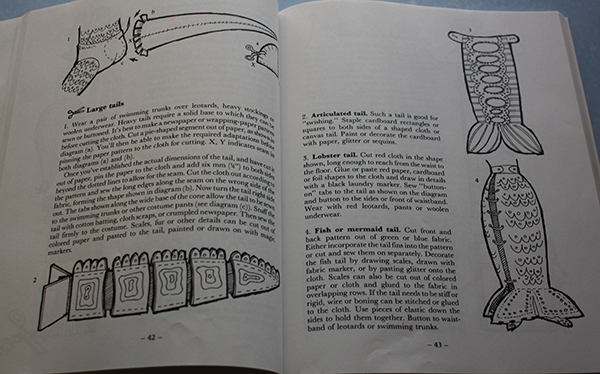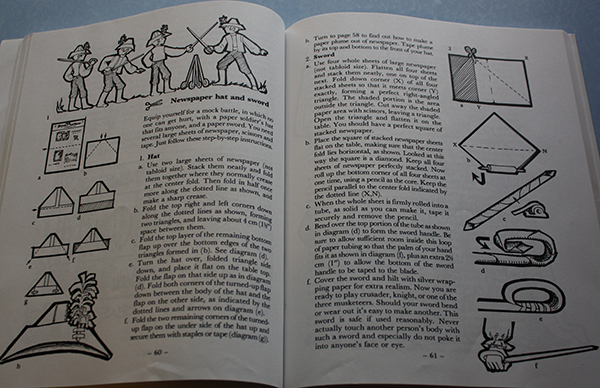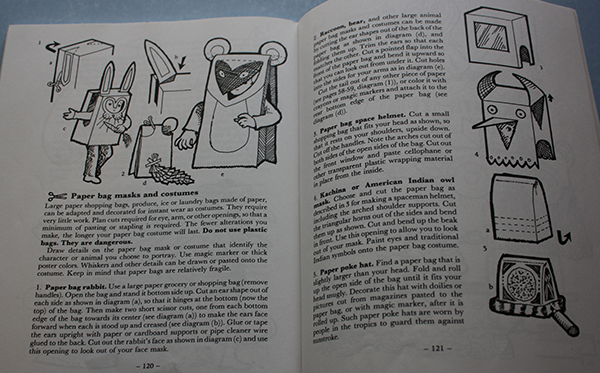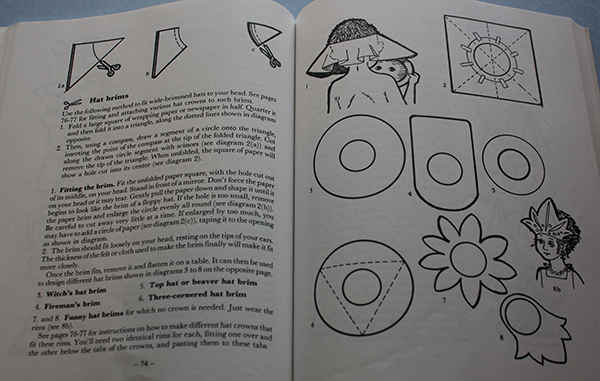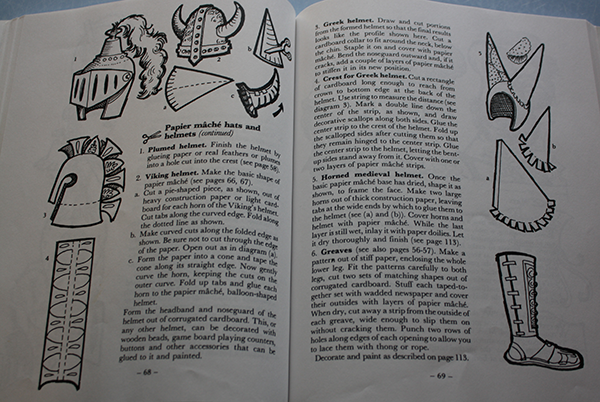 Maybe your children will transition from an interest in dressing up to drama play.  Do you remember this scene from Little Women?
"Being still too young to go often to the theater, and not rich enough to afford any great outlay for private performances, the girls put their wits to work, and – necessity being the mother of invention – made whatever they needed.  Very clever were some of their productions – pasteboard guitars, antique lamps made of old-fashioned butter boats covered with silver paper, gorgeous robes of old cotton, glittering with tin spangles from a  pickle factory, and armor covered with the same useful diamond-shaped bits, left in sheets when the lids of tin preserve pots were cut out.  The furniture was used to being turned topsy-turvy, and the big chamber was the scene of many innocent revels."  Louisa May Alcott Little Women (from the chapter 'A Merry Christmas')
If this more theatrical kind of play interests you or your children, two other literary inspirations you might enjoy are Pilgrim's Inn by Elizabeth Goudge and The Private World of Tasha Tudor written by Tudor herself in which she describes plays that she and her children produced for their small community and other imaginary play.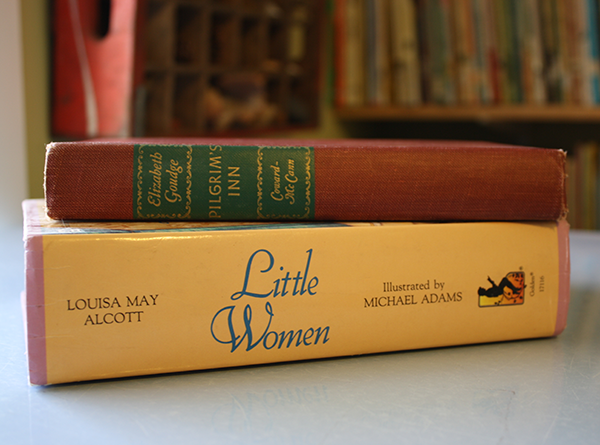 Charlotte Mason alluded that this kind of dramatic play is fed by the education of children – an education, that nourishes and does not stunt the imagination.  Without the proper diet of ideas the imagination does not develop fully – so feast on history and literature and it will feed their play:
'Playing at' History––Children have other ways of expressing the conceptions that fill them when they are duly fed. They play at history lessons, dress up, make tableaux, act scenes; or they have a stage, and their dolls act, while they paint the scenery and speak the speeches. There is no end to the modes of expression children find when there is anything in them to express.

The mistake we make is to suppose that imagination is fed by nature, or that it works on the insipid diet of children's storybooks.  Let a child have the meat he requires in his history readings, and in the literature which naturally gathers round this history, and imagination will bestir itself without any help of ours; the child will live out in detail a thousand scenes of which he only gets the merest hint." Charlotte Mason's Original Homeschooling Series Vol. 1 pp 294-5 excerpted from Ambleside Online
Do you have other resources for paper costumes or inspiration for dress up and pretend play that you would like to share?  Please tell us about them in the comments.