This is the second post in the series Starting a Homeschool Library.  You can read the first post in which I discussed resources for learning which books to buy here:
Starting a Homeschool Library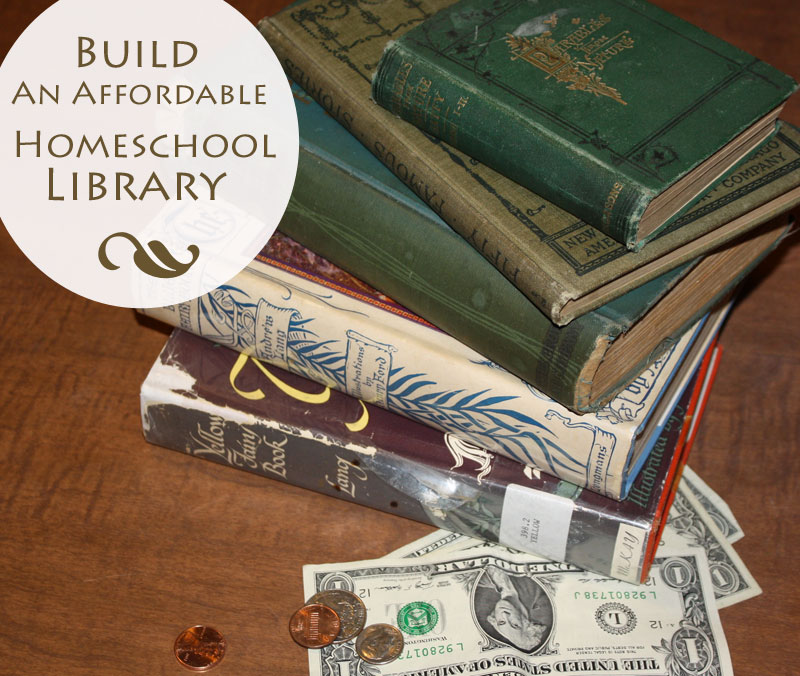 I began our homeschool library from the shelves of Jan Bloom and other homeschool families who sold out of print books, but quickly realized that if I wanted to be able to create an extensive library I needed to find a more economical solution.  These homeschool booksellers provided me with an invaluable education in what kind of books I should look for, but I would like to share with you are my most reliable sources for filling the shelves of our homeschool library:
Use Book Sale Finder to Find Used Book Sales
Book Sale Finder is just that, an email subscription service which notifies you of used book sales.  You can browse listings online using the map or subscribe to a regular email that will send you listings within the area that you designate.  I visited library sales as far as 100 miles away.  Book prices varied greatly, some titles for a dollar or less, some treasures I paid $15 or more for, but always well below market value.  Some sales were full of treasures, like beautiful old copies of Edwin Way Teale or first editions of Beatrix Potter's journal.  Others were not and I came home empty handed, but I enjoyed the adventure just the same.
Many used book sales are not child friendly – some sales don't even allow children to attend.  Many times I did take a nursing child to a sale, though.  If you are in doubt, call or email ahead.  Some sales allowed strollers some didn't – take a sling just in case.  I would definitely leave toddlers at home.  If you have older children whom you can train which books to look for, they can be a great asset at a used book sale since the first few minutes and hours can be crucial.  It's one way to be in more than one place at once!
Your Local Library For Sale Shelf
Next to used book sales, my second most productive resource is the library for sale shelf.  Many Friends of Libraries now keep a shelf or a room with discarded and donated items stocked year round.  I have found many treasured picture books on the shelf at our local library.  Some of them needed a little TLC but we were happy to add a little tape, swipe the cover with a baby wipe and put it on our shelf for as little as a dime or quarter.  The best part – libraries are always child friendly.
Visit Your Local Used Book Stores
In Charlotte we have a few used book stores, but our favorite is Book Buyers.  Book Buyers is owned and operated by Richard and his daughter Lee.  There is the obligatory cat, Page, and even an airplane that Richard has been restoring in the shop.  I found my copy of A Child's Garden of Verses illustrated by Jessie Wilcox Smith there along with other beautiful classics.
Another local book store in the Charlotte area that has homeschool friendly titles is The Last Word.  Not all used book stores are created equally – many are nothing more than glorified paperback swaps.  I have found some special ones throughout the years – but they come and go as well.  When you visit be aware that not all used book stores are child friendly.  Also expect to pay slightly higher prices for some titles, but some titles are very reasonable.  I think I paid around $6 dollars for the titles I mentioned above.  Get to know the owners of the shops – used book store owners are very approachable and if you let them know what you are looking for they might create a shelf for it.  That's exactly what happened at The Last Word which has a homeschooling section.
Your Local Homeschool Store
Charlotte used to have two local homeschool stores, Growing Scholars and The Homeschool Room.  Growing Scholars is still open by appointment and is operated out of the owners home.  They have a small collection of both new and used books.  The Homeschool Room carries only used books and curriculum and is run mostly on consignment.  Most of their stock is used curriculum but there is enough good literature and non fiction titles to keep me going back.  If you have a homeschool store in your area they can be a valuable resource and are also child and family friendly often with great nursing chairs and play areas for children while you shop.
Local Homeschool Used Book Sales
These are normally advertised on local homeschool lists and take place in parks and churches at the end of the school year.  I have located some great finds at great prices here as well.  These are often a bit like reunions and park days all rolled into one and more often than not the whole family is welcome.
If you have other resources that have been helpful in building a homeschool library please tell us about them by leaving a comment.